Pleasant Hill is home to craft shops, artists, antiques, eateries and the longest operating pool hall this side of the Mississippi River. Scroll down to meet our merchants and make sure you plan a Saturday day-trip to pay us a visit.
MEET THE MERCHANTS

WYOMING STREET WINE STOP
is owned and operated by Robert and Julie McBride. This wonderful wine shop and cafe features a large array of wines from throughout Missouri and beyond. They feature a menu filled with pizzas, paninis, deserts and more. Visit for lunch or dinner or just enjoy a glass of wine and live music on the covered patio.
115 Wyoming Street, Pleasant Hill, MO 64080 | 816.987.0228

BROWN's VINTAGE and VARIETY
Julie and Alyn Brown have spent hours digging for forgotten treasure! Come on over and pick up a fun vintage item that will have you flashing back to your childhood. We love toys, cast iron, brass and more! Something unique for everyone in the family.
117 S. First Street, Pleasant Hill, MO. | brownsvintagevariety@gmail.com
5 and 10 ANTIQUES
is a fantastic little boutique that features a large array of antiques and gift items from multiple local artisans, antiquers and makers. Run by the ever-smiling Linda Young, this 5 and 10 presents gifts and goods from a huge variety of vendors. Be sure to check it out.
113 First Street, Pleasant Hill, Missouri 64080 | 816.987.0214

THE KNOT HOLE WOODCARVING
Joyce and Andy Anderson are veteran woodcarvers that have been carving, teaching classes and hosting carving seminars in Pleasant Hill for more than 25 years. The Knot Hole specializes in teaching classic wood carving, painting, and finishing for beginners and experts alike. Be sure to check out the website for class or seminar information.
118 South First Street, Pleasant Hill, Missouri 64080 | 816.987.2214 theknothole.net

RESTO 101
Jeff Wilson's Resto 101 / Gas From the Past shop is truly a sight to behold. Featuring a complete vintage filling station facade inside the shop, Jeff uses this amazing space to perform gorgeous restorations on all sorts of cool retro items.
From gas pumps to vintage safes to old-school tricycles, Jeff's talents with classic stuff are a must see.
101 North Boardman, Pleasant Hill, Missouri 64080 | 816.540.3443

THE PLEASANT HILL THRIFT STORE
is a non-profit organization stocked by donations and staffed by volunteers to help fund the many ministries of the Pleasant Hill Lay Clergy (Food pantry, Utility Assistance, Etc.).
100 Veterans Parkway, Pleasant Hill, Missouri | 816.987.3600

EVA MOORE PERFORMING ARTS CENTER
Continuing 30+ years of quality dance instruction in Pleasant Hill! Eva Moore's Performing Arts Center offers dance and tumbling instruction for all ages and abilities. Register today for any of the following styles: Ballet, Tap, Jazz, Tumbling, Pre-School Dance, Adult Fitness, Hip Hop, Pointe, Lyrical and Competitive Classes.
205 Cedar Street, Pleasant Hill, Missouri | 816.540.2941 | danceatempac.com

R&R BUTTONS / MoKAN LIQUIDATORS
At R&R buttons we specialize in Screen Printing, Laser Engraving, Vinyl Banners and Decals and Promotional Items such as Pens, Calendars , Business Cards and Buttons. At our new Store, Mo-Kan Liquidators, you will find a large selection of General Merchandise like Housewares, Toys. Books, Tools, Sporting Goods and Hardware.
201 Cedar St., Pleasant Hill, Missouri | 816.540.4429 | www.randrbuttons.com
BIG CREEK CAFE
This family-owned, family style restaurant features a full menu of home cooked specialties including breakfast served all day-every day. We offer many original tried and true recipes including home-made pies, cakes and cookies. And you wont find a bigger tenderloin sandwich this side of Heaven.
113 Wyoming, Pleasant Hill, Missouri | 816.987.0524

A SWEET EXPRESSION
Owner Debbie Aiman is known for her custom candy and cookie bouquets and features hand-made chocolates and award winning jams and relishes. She also has fresh ice cream, assorted gift items, dolls, jewelry, balloon decorating and much more.
138 First Street, Pleasant Hill, Missouri | 816.405.7704 www.asweetexpression.net

THE PLEASANT HILL POOL HALL
Rumor has it that the Pleasant Hill Pool Hall is the oldest functioning pool hall that is still a pool hall this side of the Mississippi River. This little hole in the wall bar is almost never closed and is hands down the best place to get a beer in town. Make sure you stop in and tell owner Jeff Johnson hello on your next visit.
119 S First Street, Pleasant Hill, Missouri | 816.540.2004

ART CRAFT CROSSING
Mary Lou McLagan has been teaching art classes in her studio in the Historic Train Depot for years and years. She teaches all media and creates everything from still lifes to portraits. Make sure to sign up for one of her wonderful classes.
816.289.7866 or 816.540.5580

BALLYPEDDLER VINTAGE & MORE
features retail sales of antiques, collectables, vintage decor, repurposed items and much, much more. Vendor booths are available for displaying many specialized items. Make sure to check out the Man Cave for tools, hardware, building materials and other manly things too.
116 Veterans Pkwy and their new location inside the Historic Train Depot
816.739.3883

THE PLEASANT HILL TIMES
The publishers and staff of the Pleasant Hill Times have brought readers their very best each week for over 100 years. Founded in 1901, the Times has covered Pleasant Hill and the surrounding Cass County area better, and longer, than any other publication.
126 First Street, Pleasant Hill, MO. | 816.540.3500 | phtimes.net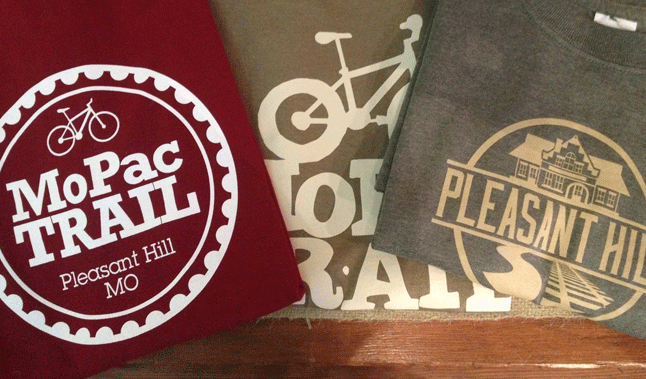 R&S MERCANTILE
Rick and Sara Kitchell are a husband and wife design team who use their creativity, and a little help from creative friends and family, to put together a unique gift shop filled with local gifts and handmade, custom-designed novelties.
120 First Street, Pleasant Hill, MO. | 816.896.4664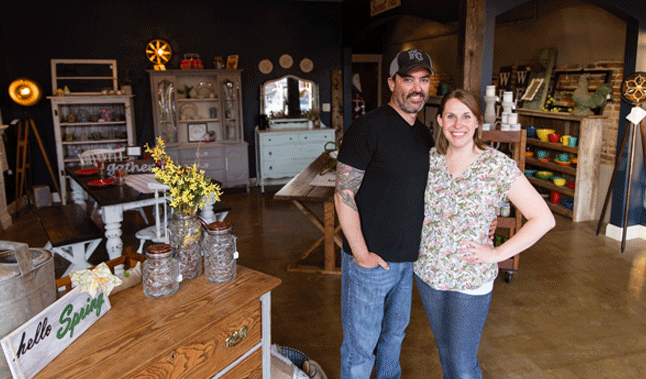 AMERICAN DWELLING
Run by owners Eric and Sarah Tangblade, features a combination of handmade, vintage, and re-purposed furniture and decor. They also cary a wonderful selection of custom apparel and gifts from local designers and makers.
121 S First Street, Pleasant Hill, MO. | 816.987.0690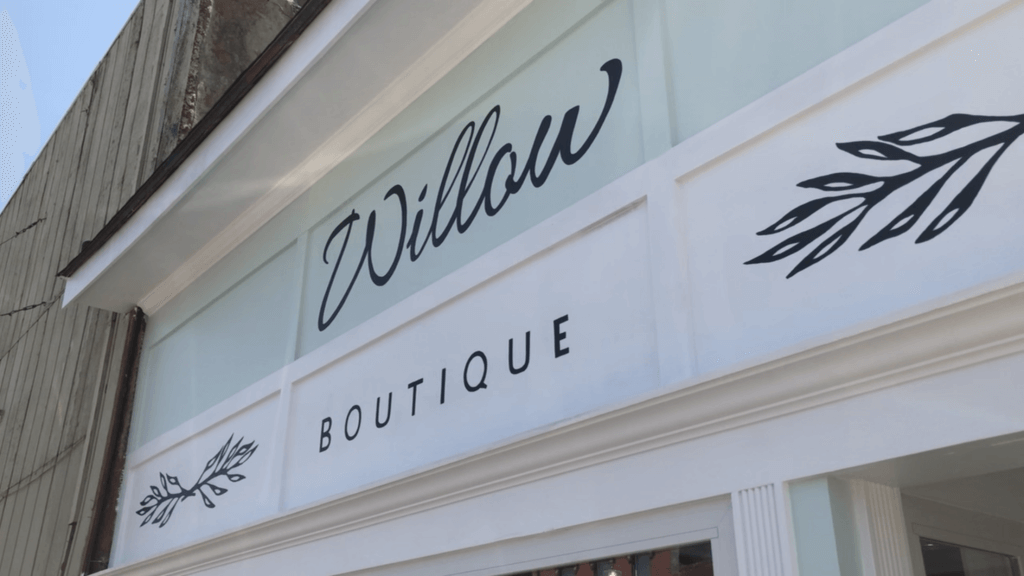 WILLOW BOUTIQUE
Willow Boutique offers gorgeous fashion to women of all sizes. Shop Willow in historic downtown Pleasant Hill or shop online to find the fashion and trends that you love! Willow has a fabulous selection of clothing, accessories and gifts.
129 Wyoming Street, Pleasant Hill, MO. | 816.651.9286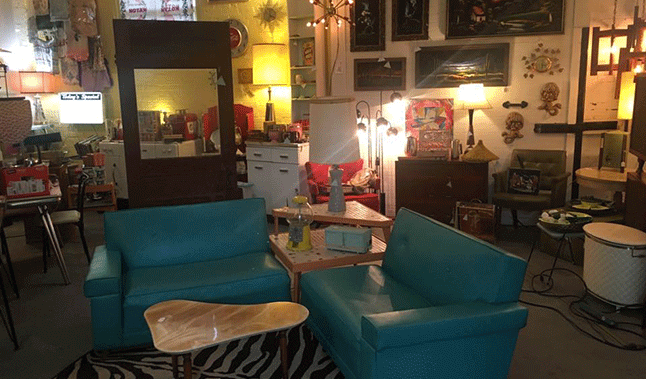 RETRO ON THE RAILS
Jeff Wilson and his merry band of retro roughians have taken a chunk of the Historic Train Depot and turned in into a Retro wonderland. Looking for mod furnishings or tiki paraphernalia? Look no further than Retro on the Rails.
In the Historic Train Depot, Pleasant Hill, MO. | 816.987.5623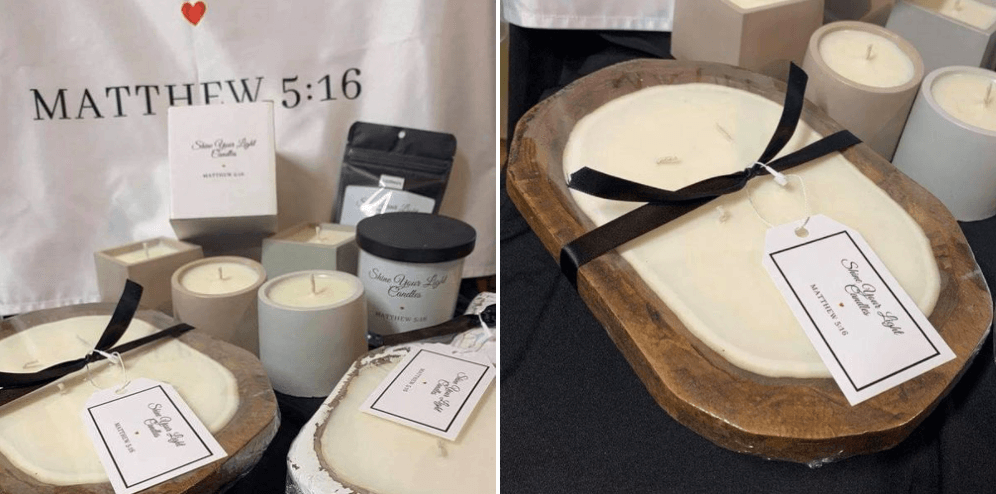 SHINE BOUTIQUE
features a wide array of accessory pieces, spa products & unique home items that will not only complete your outfit, allow you to pamper your self and to find unique gifts.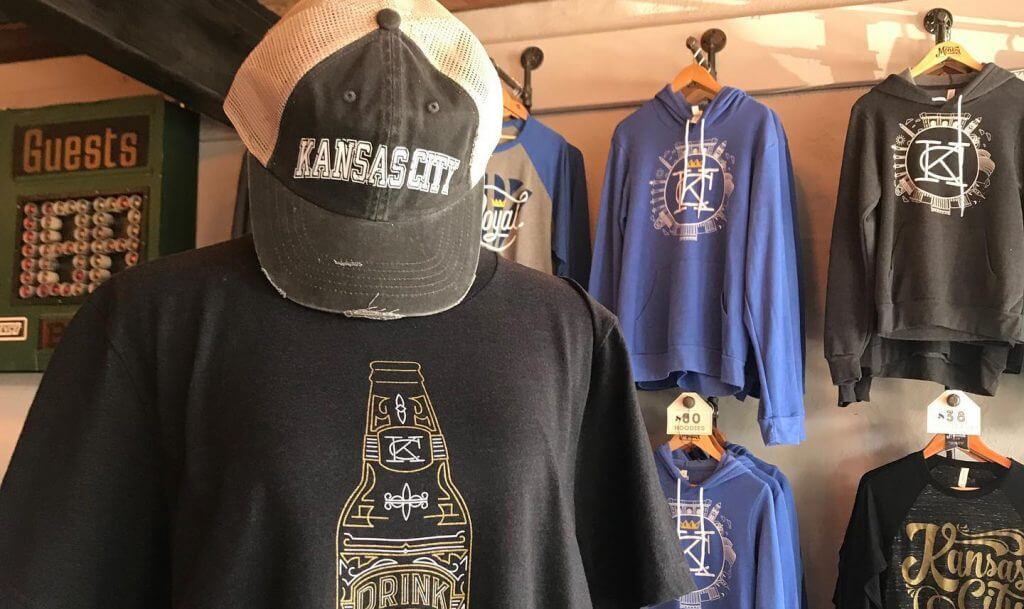 PRESS MONKEY STUDIO
It is our passion to create top quality hand made products. Not only do we sell our own products but we also create custom products. We create apparel for everything from school fundraisers to business apparel. Oh – and we have AMAZING coffee.
122 South 1st Street, Pleasant Hill, Missouri | 816.377.3978