Our Mission
Is to preserve our historic district by encouraging investment and entrepreneurship through strong community connections.
Our Vision
Is to establish a downtown where residents and visitors experience historic charm in a vibrant destination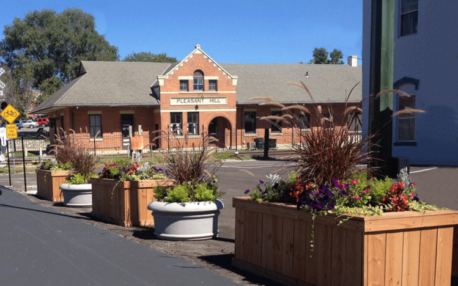 Four-Point Approach
The Main Street Four-Point Approach® is an approach to revitalization that was created by the
National Trust for Historic Preservation.

Organization
Involves building a governing framework that includes a diverse representation of business and property owners, bankers, citizens, historians, public officials, chambers of commerce, and other preservation organizations. Everyone must work together in a long-term effort to renew downtown and maintain its stability into the future. The organization committee also trains and develops leaders for the community's revitalization effort. Activities of a start-up Organization Committee begin with creating a not-for-profit organization, establishing priorities through comprehensive work plans, providing the organization with sustainable sources of revenue, and volunteer development.

Economic Vitality
Involves analyzing current market forces to develop long-term solutions; recruiting new businesses and strengthening the existing competitiveness of the traditional merchants and service businesses, while diversifying the economic base; creatively converting unused space for new uses, and working closely with the Design Committee to seek appropriate solutions for historic commercial buildings that will ensure their continued occupancy, maintenance and preservation.

Design
Enhances the visual attractiveness of downtown. This includes technical assistance and encouragement to building owners toward the restoration and rehabilitation of historic structures, street and alley cleanup, colorful banners and landscaping. Attention must be paid to safe and efficient infrastructure, including streets, sidewalks, curbs and gutters, and the appearance of storefronts, signs, street lights, window displays and graphic materials. Design improvements should be developed through a public-private partnership by reinvestment of public and private dollars in downtown.

Promotion
Projects a positive, unified image to identify downtown as a gathering place. Revitalization programs market the district and the community through a series of targeted activities such as special events and festivals, which highlight the local culture, art, music, dance and traditions that give each community its unique identity.