November 4, 2023 6:00 pm - 9:00 pm
Big Iron Town, 29608 E 179th St, Pleasant Hill, MO 64080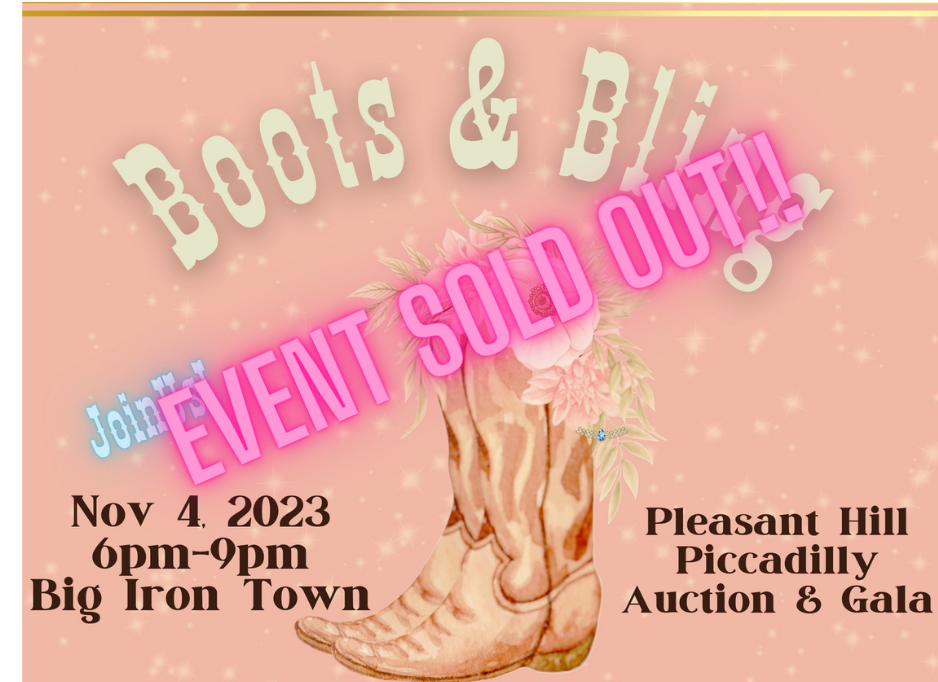 Date: November 4, 2023
Time: 6-9 pm
Location: Big Iron Town
RAFFLES and PRIZES! ALL NIGHT LONG!
RAFFLE BASKETS–there will be numerous fully stocked gift baskets raffled off all night long!
Participation is optional based on if you choose to play.
Pay the bid amount per gift basket of choice (bids range in prices… 75 cents and on up)
Choose the easy & BEST DEAL–the "ALL IN" PASS This gets you in EVERY SINGLE GIFT BASKET RAFFLE! AND, you have an opportunity to win MULTIPLE times!
Or, don't play the raffles at all and watch others win the prizes!
(SILENT AUCTION items are bid on in the traditional way & not included in an "ALL IN" pass)
Ticket options: Event is Sold Out
Crystal Cowgirl–$55 for 1 dinner reservation and 1 drink ticket. Event is Sold Out
*OR*
Rodeo Queen–$100 for 1 dinner reservation, 1 drink ticket and 1 "All In" raffle pass. Tiara included! Event is Sold Out!
"ALL IN" PASSES – Add – On
Does not include event entry or dinner. TICKET PURCHASE REQUIRED
What is an "ALL IN" PASS?! I think I need one! Going "ALL IN" gets you entered into EVERY RAFFLE and you can win MULTIPLE times! This is a top highlight of the Piccadilly Auction & Gala!
Double down or Triple down or more… to increase your chances while supporting Pleasant Hill Historic District!
d